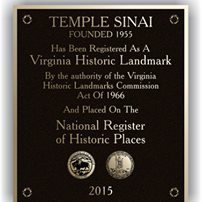 Temple Sinai–a Historic Landmark
        In 2015 Temple Sinai was added to the Virginia Historic Register and the National Register of Historic Places for architectural significance and for ethnic heritage. These two registers represent the properties important not only to the history of Virginia but also to our country.
         Temple Sinai was established in 1955 to serve the need for a place of worship on the Peninsula for "Modern" or Reform Judaism.  The building, in the style of mid-century Modernism, subtly designed around Noah's Ark, was dedicated in December 1960.  
        Temple Sinai was designed by the famous Greensboro, NC architectural firm of Loewenstein-Atkinson, and is an extension of Edward Loewenstein's prestigious work in and around Greensboro.  He completed over 1,600 buildings in the greater Greensboro area, including many public structures, both modern and traditional, such as schools, hospitals and religious institutions, and some private residences.   Click here for a website of Loewenstein's residential and commercial work (requires Adobe).
     Temple Sinai's building, while not overwhelmingly Jewish in its architecture, suggests Noah's Ark (a place of refuge and safety).  The building features a sloping roof, representing the Ark, and a sanctuary with a soaring open space suggesting the link between man and God.  It also resembles the many modernist residences Loewenstein designed in North Carolina. 
         Temple Sinai is one of few Reform Jewish structures and the only one on the Virginia Peninsula.  The first Jews arrived in Newport News shortly after Collis Huntington built a railroad line from Newport News to Richmond and points west in 1881.   An Orthodox Jewish congregation was established in 1893 (Adath Jeshurun) in Newport News, followed by B'nai Israel, a second Orthodox congregation in Hampton in 1910, and Rodef Sholom, Conservative, originally in Newport News, in 1913.  Temple Sinai was founded in 1955 with 20 members who left Rodef Sholom in order to worship in the Reform Jewish tradition.   That membership had increased to 45 by 1960, when its building was occupied, and to 194 by 1990, with slow decreases in recent years.
         Temple Sinai acts as a living museum, preserving Jewish heritage.  It houses three Torahs.  One, created in Morocco, dates to the 18th century.  It was acquired from a synagogue in Portugal and dedicated at Temple Sinai in 1957.  The Biblical Garden, established in 1975, is located on the northeast side of the Temple Sinai property and contains over 100 species of plant life, which are mentioned in the Bible and existed in the Holy Land over 2,000 years ago. The Biblical Garden Preserve in Jerusalem inspired it.  Beautiful stained glass windows, dedicated in 1995, illustrate the role of women in the Torah.  The artist, Marsha Maurer, employed the same technique and glass as the turn-of-the-20th-Century artist Louis Comfort Tiffany.  N. Amanda Ford, a well-known fiber artist, designed the Torah mantles; these were dedicated in 2002.  A Judaica Quilt, designed and quilted by the women of Temple Sinai led by master quilter and synagogue member Ruth Simmons, hangs in the Social Hall.  The quilt was completed in 2000.
A plaque commemorating our inclusion on the Virginia and National registries was dedicated at our 60th anniversary celebration in July 2015 and can be seen outside our sanctuary entrance.
Temple Sinai from Warwick Blvd