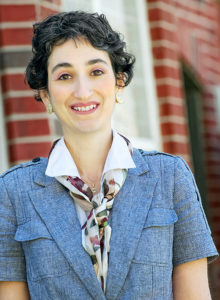 Biography: I am the Rabbi, Director of Education, and Cantorial Soloist for Temple Sinai, a Union for Reform Judaism affiliated congregation, that is part of the National Registry of Historic Places, located near beautiful Mariner's Lake in Newport News.
I also participate in the Riverside CPE (Clinical Pastoral Education) program and serve as a chaplain in Riverside facilities.
I am the second French woman (and the first French woman fully of North African Sephardic origins) to be ordained in Reform Jewish history.  My path to achieving my dream of becoming a rabbi is a story of dedication and perseverance.
I hail from Lyon, France, and have worked as a Jewish communal professional in the United Kingdom, United States, and France since 1998.
I earned my Rabbinic Ordination, Bachelor's, and Master's degrees in Hebrew and Judaic Studies from the Leo Baeck College-Center for Jewish Education in London. I was trained and certified as a Diaspora Senior Educator at the Hebrew University-Melton Centre for Jewish Education in Jerusalem and was awarded a Bachelor of Arts degree in English Language and Civilization from the Université Lumière Lyon II.
My work has appeared in numerous publications in the United States and England including the Daily Press, Reform Judaism, and European Judaism.
My dearest passions are advocating causes relating to Tikkun Olam (healing the world or social justice) and advancing personal well-being.
When I am able to catch some free time, I enjoy listening to music, taking nature walks, writing poetry, taking photographs, cooking, and creating memorable moments with my loved ones.
I look forward to welcoming you to our wonderful congregation and getting to know you!