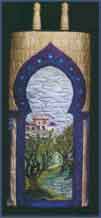 Torah 2 — Origin:  Jerusalem — 1903
Gift arranged by Victor and Nedra Harkavy and Murray and Sadie Kolinsky and delivered to Temple Sinai by Mr. and Mrs. Edward Israel from a synagogue in Hartford, Connecticut.
Torah Dedication:  June 1963
Mantle Dedication:  5763, October 4, 2002.  A Torah Fund Donation.