We have many exciting projects in store!
     Contact Rabbi Severine Sokol, Religious School Director, at
     rabbi severine@gmail.com or at (314) 628-9196 for more information.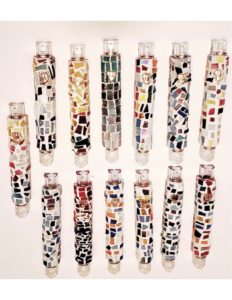 Sample mezuzot made by our Religious School children
Children of Temple Sinai members attend Religious School at no charge. 
Hebrew School:
  Hebrew School takes place at the UJC. Contact Carmela Malkin Kuhn at (757) 930-1422 or by 
email
. Temple Sinai covers tuition for Temple Sinai members' children.
Bar/Bat Mitzvah Preparation:  Rabbi Sokol teaches Bar/Bat Mitzvah weekly classes to prepare students for their Bar/Bat Mitzvah. 
Please contact Rabbi Sokol, Religious School Director, by e-mail or at (757) 596-8352 for more information or to make arrangements to visit the school.